Penisverlängerung-Spam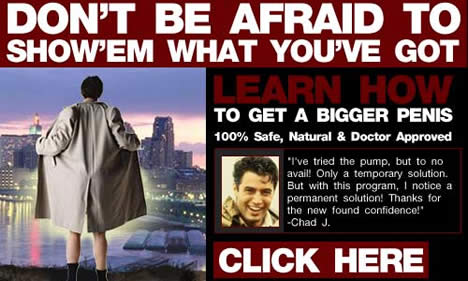 OK, wir haben es zensiert. Aber die Größe stimmt! Das ist nämlich meiner jetzt.


PENIS ENLARGEMENT
PATCH WORKS !


The pictures below are actual pictures
taken just 1 month after using the patch.

BEFORE

AFTER

100% MONEY BACK,
'NO QUESTIONS ASKED' GUARANTEE

"I've been using your product for 4 months now. I've increased my length from 2" to nearly 6" . Your product has saved my sex life." I'm no longer embarrassed of my penis size and now I have the confidence to pick up any girl that walks.
Matt, FL

This Week's SPECIAL !

Click here to see how it works !



Siehe auch Viagra-Spam und Porno-Spam.



SPAM NEWS